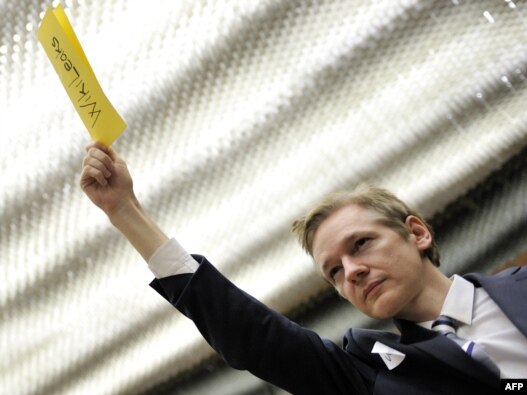 Confession here. We had a crush on his name, and now we think we have a crush on the man himself. Which is totally weird. Because he's like, the prototype of everything that goes against our exhausting list of what a man should look like. But there's something so sweet and so vulnerable in his childlike soft face we can't help but want to pet the TV screen whenever he shows up on there. Plus his hair is mad cool. Yeah.
Anyway,
his bail
was a whopping quarter of a million pounds, provided for by supporters. He spent ten days in solitary confinement in a Victorian cell which sounds highly unpleasant. He'll be back in court January 1st to fight against the non-existent evidence tying him to accusations of sexual assault on two Swedish women. Meanwhile he has to wear an electronic tag, observe strict curfew, and report to a police station on a daily basis.
Do we dare post something corny like "The truth shall set you free" and hope against all hope that this might actually come true? It's hard being optimistic about this, especially with the virulent US reaction who want to try sweet Julian for espionage and see nothing perverse in murdering him. Oh, that great upholding nation of freedom of speech and investigative journalism.